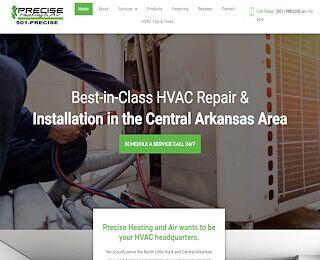 Any time you need to contact a plumber near me, Precise Heating, Air, & Plumbing will be here for you with affordable rates on a wide range of plumbing services.. Whether you just need someone to make routine upgrades to fixtures that are failing or you're experiencing a plumbing emergency that requires immediate attention from a 24/7 plumbing and rooter company, you can count on us for quality work at a fair price. Reach a North Little Rock residential plumber by calling our helpline at 501-PRECISE.
5 Top Tips For Choosing a Plumber Near You
1. Check credentials and customer reviews before hiring a plumber to make repairs. It pays to take your time and look around before choosing the first plumber that appears in your online search. BBB accredited plumbers from Precise Heating, Air, & Plumbing have an exceptional reputation in the North Little Rock community; we've earned the trust of customers for more than a decade.
2. Look to see what others are saying about your plumber near me. Expect an occasional less-than-stellar report, but be sure that the vast majority of testimonials and ratings are above average. When you need residential plumbing services, look into our background at Precise Heating, Air, & Plumbing; we can offer all of the following:
Water heater repairs & upgrades
Tankless water heater installation
Reduced Pressure Zone Valve testing, repairs, & installation
Plumbing fixture repairs and new installs
Clogged drain rooting
Sewer line/water line repairs and replacement
Waterpressure regulator installs
Plumbing winterizing
Maintenance
3. In your search for cheap plumbers in Little Rock, make certain you're not sacrificing quality in order to save a few dollars. By choosing our plumbing company, you'll have the assurance that our plumbing professionals have an eye on your budget without cutting any corners while working on your plumbing system. Make a call to Precise Heating, Air, & Plumbing the next time you need a reliable plumber near me.
4. Ask for over-the-phone advice before choosing a plumbing company. If your garbage disposal is jammed or your washing machine is leaking, a plumber may be able to walk you through a few simple troubleshooting tops while you have them on the phone. When simple solutions like plunging or checking breakers fails to yield positive results, call in the professionals from our plumbing company. We'll take the time to ensure your total satisfaction as your plumbers.
5. It's been our experience that most homeowners in need of emergency plumbing services have not had time to budget for extensive repairs. If you need a plumber who can offer you financing options, look no further than Precise Heating, Air, & Plumbing. Instead of having to deal with broken plumbing fixtures, leaking pipes, or an inefficient water heater, you can apply for easy financing through our partner, GreenSky.
Keep our contact number in a convenient place where you can easily find us when plumbing problems arise. We're never further than one phone call when you need routine plumbing repairs or emergency plumbing services.
Precise Heating, Air and Plumbing
+1 501-773-2473
9883 Maumelle Boulevard
Maumelle AR 72113 US